GROW YOUR OWN CUTTING GARDEN: SUCCESS FROM SEED TO VASE
Subscribe below to receive your FREE 20+ page ebook guide… along with farm updates, tutorials, inspiration, recipes and more! SIGN ME UP!
We respect your privacy.
You've had it happen before.
The bloom looked perfect on the plant but within minutes of cutting, the whole stem is looking a little droopy. In fact, it looks downright sad!
What is going on?!?
Usually it's one of 3 things:
1. THE FLOWER WAS CUT AT THE WRONG TIME OF THE DAY.
Many flowers will immediately wilt if cut during the heat of the day. On our farm, we start cutting as soon as it's light enough (around 6:00 am) and stop as soon as the sun is up over the tree line and it starts to heat up (about 10:00 am).
If the day is cool or cloudy, we can get away with cutting later in the day… but if the sun is out, forget about cutting in the middle of the day.
Evening is another good option for cutting. Start when the sun is far on the horizon and the day has cooled.
2. THE PLANT WAS HARVESTED AT THE WRONG STAGE.
Some flowers need to mature a bit more before being cut or they will flop. Really, the best way to figure this out is simply experimenting.

If the stem feels floppy on the plant before you even cut it, that is likely a clue that the stem needs to mature a few more days.

For example, Zinnias are easy to test. Simply grasp the stem about 9 inches below the bloom and give it a shake. If the stem flops or bends, it's not mature enough. If the stem is stiff, it's ready.
3. THE PLANT IS A "WIMPY DRINKER".
This is the term used by Floret Flower Farm in Washington. Some plants simply do not respond well to being cut and have a hard time "rehydrating" and getting water flowing in the stems.
If you can manage to get these stems taking up water again, they will make a great cut flower and last for days. If not, they are basically worthless.
A Simple Trick for Reviving Wilted Stems
In my reading and research about post-harvest care for flowers, I came across something called the "Boiling Water Method" for reviving wilted stems.
I was truly skeptical because the idea of placing stems in boiling water seems insane. In my experiments, I was attempting the opposite – re-cutting the stems and placing them into cold water. It didn't work.
I decided to give the "Boiling Water Method" a shot on some stems that I was about to throw out. I had cut the stems early in the morning, but they still wilted immediately… and a day later, even after being stored in my floral cooler overnight, they still looked terrible.
Time to try the "Boiling Water Method". This is what I did:
1. Boiled water on the stove and poured it into a jar.
2. Re-cut the stems at an angle with clean, sharp flower clippers.
3. Immediately plunged the stem end into the boiling water, angling the blooms out the jar to avoid "steaming" the blooms.
4. Set a timer for 1 hour and walked away (I wanted to watch, but I had work to do!)
*NOTE: This was my first attempt. I learned that it's probably best to fill the jar with about 1 inch of water, so only a small part of the stem is "cooked". That part of the stem can be cut off later.
Also, one hour is probably unnecessary – I was headed out to work and wasn't able to check back earlier.

If you are concerned about "cooking" the stems, try dipping for 10 seconds for soft stemmed flowers and up to a few minutes for "woody" stemmed flowers like hydrangeas. After "searing" in the boiling water, place the stems in cool water.
When I returned, the water was cool and this is what the stems looked like: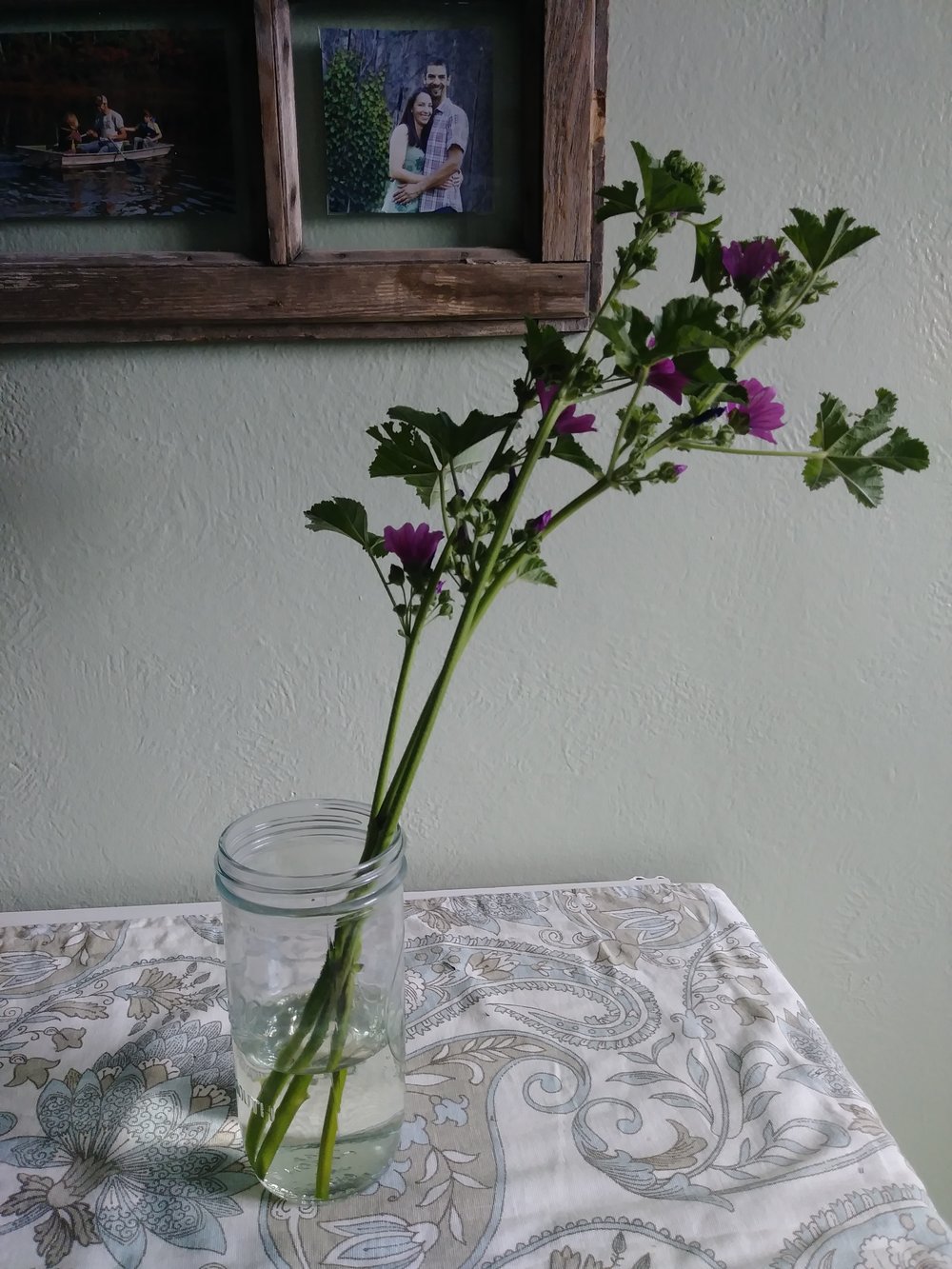 AMAZING. I was in shock. 2 minutes of work and these flowers were back in business!
I removed the stems from the jar and added them to an arrangement in my dining room. 6 days later, the stems were still looking GREAT.
Now obviously, if your blooms are 5-7 days old and they start wilting, you need to simply accept that they are dying a natural death. Flowers don't last forever.
However, if your blooms are freshly cut and wilting, then you can certainly give the "Boiling Water Method" a try. What do you have to lose? It's better than your other option – throwing them out.
FLOWERS/FOLIAGE THAT MIGHT NEED A LITTLE HELP
Here are a few flower/foliage varieties that respond well to this hydration method:
Hydrangeas
Lilac
Basil
Honeywort
Scented Geranium
Dusty Miller
Hollyhock
Forget-Me-Not
Artemisia
Hibiscus
Mint
Shiso/Perilla
Dahlias
Obviously, flowers are not "one size fits all", so this method will not work on all flower varieties.
I highly encourage you to do your own experiments. Have fun with it and set up your own control group and experimental groups.
For example, label several jars – one is the control (you do nothing), one is a stem seared for 10 seconds, one is a stem seared for 2 minutes, 10 minutes, etc. Be sure to analyze and compare your results. This is the best way to learn!
If you consistently have an issue with a flower wilting, first you should make sure you are harvesting at the correct time of day and the correct stage of harvest.
If this does not help (or if you simply cannot cut that early in the day), the "Boiling Water Method" is a good option to try out.
I hope this information is helpful. Give it a try next time you encounter a floppy, sad looking stem… and let me know how it worked!
15 Likes Share
COMMENTS (12)
Newest First Oldest First Newest First Most Liked Least Liked Preview POST COMMENT…
Julia 10 months ago · 0 Likes
Hi, was just googling how to save wilting Dahlias and led to your post. I just tried this and it worked!! I am so amazed because it is so counter-intuitive and crazy sounding to place flowers in hot/boiling water! But it works!!! Thank u so much😊
Lori Hernandez 10 months ago · 0 Likes
No way! I never thought about trying it on dahlias. Thanks for sharing this great info!
Linda Knight A year ago · 0 Likes
Thank you Lori! I was so excited to harvest my Dara this morning to make bouquets for the farmers market tomorrow. It's the 1st time I've ever grown it. I had read that it has a tendency to wilt if picked to soon. I waited until it seemed like the flowers were nearly fully open and the umbels were flat topped. I was so disappointed to see that it quickly wilted just a few minutes after cutting, even though I put it in water immediately while still outside in the shade. I found this post and gave your method a try. It worked! I had a ton of other things to do but I did watch! It took 10-20 minutes for them to revive. As each flower head began perking up, I took them out of the hot water and placed them in cool water. They look great tonight and are ready to go to market! You saved me!
Lori Hernandez A year ago · 0 Likes
Linda,
I'm SO HAPPY to hear that! Yes, the boiling water method has saved my butt a few times 😉
Thanks for the detailed feedback about how long it took. That is great information, as I was going to try using that method on my Dara this week too!
Ann-Marie A year ago · 0 Likes
I can't wait to try this on my lemon balm! I like to use it for foliage, but it wilts like mad. I think this may be the trick I needed to condition the stems. Thank you!
Lori Hernandez A year ago · 0 Likes
Ann-Marie,
It should work on lemon balm. Lemon balm and other mint related species tend to hold much better when:
They cut early in the morning (before the sun comes up)
They are more mature and the stems are slightly woody.
They are allowed to condition (rest in cool water) over night. They will often droop immediately after harvest, but may revive in 24 hours.
Hope this helps!
Lana 2 years ago · 0 Likes
I did just as you said and they completely came back! I'm working with Dusty Miller for a wedding – so glad I came across this post
Lori Hernandez 2 years ago · 0 Likes
Lana,
I'm thrilled to hear that! Glad it helped!
Lori Hernandez 2 years ago · 0 Likes
Lana,
So glad to hear that! What great feedback… and now I know it works for Dusty Miller. 🙂
Colleen 3 years ago · 0 Likes
Thanks for the advice. I love stopping and getting the bouquets already put together ❤️
Mary 3 years ago · 0 Likes
I'm new this year to growing hydrangeas, and I, too, found this boiling water method really works! Their floppiness was likely that I had cut the flowers late morning. But, I recut the stem at a steep angle, then held the short stem in a cup of heated water (1/2 c microwaved 1 minute) for just over a minute, then placed the stems back into cool water in their vase. Within an hour they were pretty blooms again, and lasted 7 days before they started to wilt again. Of course, I gave them fresh water every other day.
Lori Hernandez 3 years ago · 0 Likes
Mary,
Thanks for sharing! What an awesome story. Incredible to watch them come back to life!Newer PostEndless Summer: An Ode to Everlasting FlowersOlder Post5 Easy to Grow Cut Flowers for Beginners