GROW YOUR OWN CUTTING GARDEN: SUCCESS FROM SEED TO VASE
Subscribe below to receive your FREE 20+ page ebook guide… along with farm updates, tutorials, inspiration, recipes and more! SIGN UP
We respect your privacy.
I was recently asked "If you could only grow 10 types of cut flowers, what would you grow?"
What a fun question! I looked at her and said "Wow, that sounds like a GREAT blog post idea!" 😉 So here you go!
On our farm, I grow over 60 varieties of flowers and foliage (probably lots more than that, but who has time to count?!?). It was a real challenge to narrow down my list of favorites to 10.
If you grow cut flowers for arrangements, it's helpful to know that a bouquet is generally made up of 3 basic parts:

1. Focal: This is your big flashy flower that sets the tone/feel for the whole bouquet.
2. Filler: These are all the other types of flowers that make the majority of the bouquet. They compliment and enhance the focal flower.
3. Foliage: These are the leafy greens that fill out the bouquet and make all the colors pop. I was once told that 1/3 of a cutting garden should be foliage. I thought that was extreme, but turns out I was DEAD WRONG. Don't forget to grow enough foliage!
*Please note that these are loose categories and some flowers can fit into multiple categories. For example, a large Zinnia would make a great Focal, while small Zinnias are perfect Fillers.
For my Top 10 List, I made sure to choose a few from each category in order to have a well balanced bouquet.
1. DAHLIA (FOCAL)
Dahlias are the flower that started it all at Three Acre Farm. There is no other flower that captivates me quite as much as the dahlia. Yes, they can be a bit temperamental. Yes, they are a TON of work for me to dig up every fall, store all winter and replant each spring.

But when I see their gorgeous blooms, I don't care about all the work.

Dahlias are not the longest lasting flowers, averaging 3-5 days… but those 3-5 days are GLORIOUS.
Favorite Varieties: "Jowey Winnie", "Lovely Lana", "Rosemary Webb", "Prince Noir", "Nicholas", " Alpen Diamond", "Ferncliff Copper", "Linda's Baby", "Woodland's Wildthing", "Bracken Sara", "Bracken Rose"
---
2. SUNFLOWER (FOCAL)
There is nothing quite as bright and cheery as a sunflower! They are easy to grow and come in a variety of shapes, sizes and colors.
Sunflowers fall into 2 categories: Single Stem or Branching. Single Stems produce one flowers per plant and can be planted close together (about 6" apart). Branching sunflowers produce multiple stems and should be planted about 18" apart.
Favorite Single Stem: "ProCut Orange", "ProCut Gold"
Favorite Branching: "Starburst Panache", "Starburst Lemon Aura", "Cherry Rose", "Autumn Beauty"
---
3. ZINNIA (FOCAL OR FILLER)
Ok, I must be honest. Zinnias are NOT actually one of my favorite flowers, so I almost didn't add them. Not sure why… I think I'm just ruined by the dahlias and the zinnias simply can't compete. Ha!

However, they are so versatile and easy to grow, it seems like a shame to leave them off the list. I'm well aware that most people simply adore Zinnias!
Large Zinnias are an excellent Focal flower (like "Uproar Rose" or "Benary's Giant"), while smaller ones are perfect as Filler (like the "Oklahoma" series, "Jazzy Mix" and "Sunbow Mix")
Favorite Varieties: "Uproar Rose", "Queen Red Lime", "Queen Lime Orange", "Oklahoma Salmon", "Oklahoma White"
---
4. SNAPDRAGON (FILLER)
These flowers are so underappreciated! I always wonder if it's because they are "spike" shaped instead of round/disk, like so many other flowers. The spike shape add visual interest and height to bouquets.

Here in my garden, they bring me endless delight and I adore them. They make every bouquet pop and their sweet scent is lovely.
Favorite Variety: Any of the "Madame Butterfly" series, but especially "Bronze with White".
---
5. AMMI/QUEEN ANNE'S LACE/DARA (FILLER)
While it's totally fine to use the wild Queen Anne's Lace that grows as a ditch weed around here (a gorgeous ditch weed, I must add! And did you know it's actually a wild carrot?!?), there are similar types of flowers that have been grown specifically for cut flower use.
Ammi makes every bouquet look lush, full and romantic. I feel lost without it!
Dara or Daucus (or Chocolate Lace Flower) is unique version of Queen Anne's Lace that comes in shades of wine, deep pink, pale pink and white. It's stunning!
Favorite Varieties: Ammi "Select White", Ammi "Green Mist", Daucus "Dara"
---
6.COSMOS (FILLER)
Dreamy. Swoon worthy. Magical.
Cosmos are all of those and more… and they are easy to grow and produce like crazy. I'm in love. Grow some. You'll be in love too.
Flowers last longer if they are harvested before the bees pollinate them, so harvest them just as the buds are about to open up.
Favorite Varieties: "Double Click" Series (all the colors are beautiful!), "Versailles", "Picotee", "Xsenia"
---
7. FEVERFEW (FILLER)
These cheery little button flowers are one of the best Fillers out there. Bouquet looking a little drab? Add a stem of Feverfew. Boom. Instant fabulousness (is that a word?).

In some climates, Feverfew will act like a perennial and come back each year. Whoo hoo!
Favorite Varieties: "Magic Single", "Magic Yellow"
---
8. STATICE (FILLER)
"The 90's called and they want their Statice back." 😉
Ok, bear with me. Statice reminds me of those stuffy dried flower arrangements you used to see in the late 80's/early 90's. When I first grew it, I thought it was horribly out of style and worthless.

And then I found a pack of "Apricot" Statice seeds… and I fell in love. It fills out a bouquet so nicely… and bonus! It's an "Everlasting" flowers (read more about them HERE), which means it pretty much lasts forever if you dry it.
A few stems of Statice in each bouquet and you're on the right track! It has a nice structure that supports other flowers and allows them to shine.
Favorite Varieties: "QIS Apricot", "Seeker White", "Seeker Rose Shades"
---
9. BUPLUREUM (FOLIAGE)
I've been growing this flower/foliage for years now and still don't know exactly how to say it. Ha!
Boo-plur-um? Bup-ler-um? Who knows… I wish someone would come up with a better name…

Anyway… this plant is incredibly unique and makes a FANTASTIC filler. When I'm making bouquets, I always reach for this first, as it creates a great structure/base to weave all the other flowers into.
I love the bright lime green leaves and cheery little yellow flowers but the plants even look beautiful as they start to fade and turn brown. Buplureum is self-seeding, meaning it will drop it's seeds and keep coming back each year if you allow it (leaving the soil untilled).
---

10. SCENTED GERANIUM
Last, but certainly NOT least… Scented Geranium is probably the most useful plant I grow on the farm. When it's in season, pretty much every bouquet I make has Scented Geranium in it. 😉

Most cut flowers have no scent, which is a real bummer. We all want our fresh flowers to smell beautiful and floral… and Scented Geranium is how we achieve this on our farm It's intoxicating scent is perfect!
There are many different varieties of Scented Geranium, including the most well known variety called "Citronella" (which I probably would NOT recommend using, unless you like bouquets that smell like bug spray!).

The thick leaves transform a bouquet from ho-hum to stunning. Scented Geranium is my "Go-To" foliage.
Scented Geranium is not grown from seed. Instead, it's divided/propagated by making cuttings. The best way to get your hands on Scented Geranium is to purchase a plant at a garden center.
The stems will wilt if cut in the heat of the day, so be sure to harvest very early in the morning, or late in the day.

Favorite Varieties: "Attar of Rose", "Sweet Mimosa", "Orange Fizz", "Apricot"
Not convinced? Here's what it looks like in bouquets…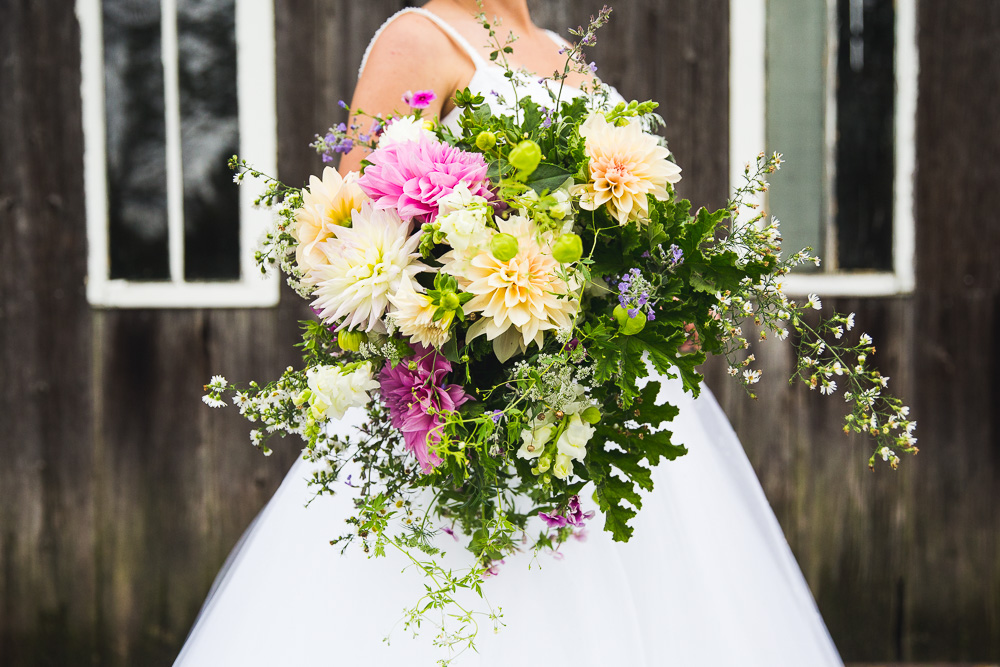 ---
There you have it! My Top 10 Cut Flowers… although I'm sure this list will change over time!

Now I'd like to know… what are YOUR top 10 favorite cut flowers??? Or maybe just your top 5. 😉

Can't wait to hear them!
READY FOR MORE?
If you're serious about growing the garden of your dreams this year, register for my online course, "Backyard Cutting Garden 101". You'll find everything you need to plan, grow, harvest and arrange your stunning blooms. I can't WAIT to help you grow! Click on the button below for all the details.LEARN MORE10 Likes Share
COMMENTS (18)
Newest First Oldest First Newest First Most Liked Least Liked Preview POST COMMENT…
Mitzi 2 months ago · 0 Likes
Yes please ..let's rename it "green gold" or something! People always ask "What's that?" …. "What???" Best direct seeded in fall, winters over in zone 6, blooms in late May for months & sale extra to florist shops ..READ book "Cool Flowers"….Dahlias must pinch!! Basil & Amaranth ( Hopi, Rope, coral & emerald) Also love Feverfew but does it effect pollination of nearby flowers? Repels 🐝??
Lori Hernandez 2 months ago · 0 Likes
Ha ha! Well, it's common name is "Hare's Ear" but I've NEVER heard anyone call it that. 😉
And yes, dahlias (and most other flowers) really must be pinched to perform well!
Autry Cataldo 5 months ago · 0 Likes
What is your secret to growing bupluerum? Direct seed or trays indoors. I'm also in 5b.
Lori Hernandez 5 months ago · 0 Likes
Autry,
I do both. Direct sow some outdoors and sow some in trays.
When growing them in trays, I have the best luck when I sow the seeds, water the tray well, then tuck it away somewhere cool and dark… and forget about them for a couple weeks. 😉 Ha! Works every time.
Leah Mokwena 6 months ago · 0 Likes
Wow, so inspiring. I would like to be a professional Cut Flower Farmer. I have negotiated a 10 000m2 piece of land from my cousin. I have got quotes for installation of a green house and now busy looking for flowers that I can grow all year round for weddings, funerals etc. Please advice.
Lori Hernandez 6 months ago · 0 Likes
Hi Leah,
I'm not sure where you're located, but your first step is to contact your local agriculture offices and see what resources/classes they have available.
Then start contacting other growers in your area and pay them for consultations. Their time and knowledge is valuable, and they can help you get on the right path!
Best wishes!
Erica A year ago · 0 Likes
Thank you so much for these tips! I am a beginner and so far have only had much success with snapdragons and zinnias. Snapdragons really are amazing and underappreciated! Do you start them inside or direct sow the seeds? I have always bought pre-started plants, but hoping to do seeds next year.
Any other foliage recommendations? I can't wait to try scented geranium, as well as cosmos (mine didn't bloom well this summer, so I am just using them for foliage instead).
Lori Hernandez A year ago · 0 Likes
Erica,
You're welcome! Snapdragons need to be started about 8 weeks before you last spring frost. So for us, that is May 15, which means I start the seeds on March 15. The seeds are absolutely tiny and they can be a bit tricky to germinate.
As for foliage, there are so many great options. If you have landscape plants and shrubs, you may be able to steal a few stems from those – hostas, viburnum, spirea, ninebark, baptisia, etc.. Herbs also make great foliage – basil, oregano, dill, mint, sage, etc.
Best wishes and good luck!
Kaye Brokaw A year ago · 0 Likes
I really like all these choices. I like the tall stems of snapdragons but after the first bloom they only produce short stems for me. Do you stagger plantings or use the shorter ones too?
Lori Hernandez A year ago · 0 Likes
Hi Kaye,
There are a couple ways you get longer stems from snapdragons (and most other types of flowers):
Pinch the plants back to 2-3 sets of leaves when they are about 8″ tall. It seems harsh, but it causes the plants to branch and send up multiple long stems, instead of just 1 long stem.
Plant them close together – 6 to 9″ apart is ideal. Close spacing forces the plants to grow taller.
When ever you cut a stem, cut to close to the bottom of the plant, leaving 2-3 sets of leaves. This signals the plant to send up more long stems to replace the one you just cut.
Also, snapdragons don't like hot weather. They bloom best in early/late summer. During the middle of the summer, they will often take a little break from blooming. If you keep cutting them back after the early summer bloom, they will send up more flowers in the late summer.
Hope this helps!
Library girl A year ago · 0 Likes
Love peonies!
Lori Hernandez A year ago · 0 Likes
Me too! I planted 150 of them this fall! It will be a few years until I reap the rewards, but I think it will be worth the wait 😉
Deborah 2 years ago · 0 Likes
This list is SO helpful for my cutting flower garden planning, AND I also hope to swing by this summer and see your garden operation in full swing in 2020.
My top cut flower faves: Dahlias, Snapdragons, Coleus (I'm a big fan, pending the color, they are either sharing the star or filler role), Celosia (bright combos with Coleus), Cosmos, Yarrow, Spirea (I have white and pink), Sunflower, Dill (got this idea from you), and last, but not least, Peonies (classic early season favorite).
Lori Hernandez 2 years ago · 0 Likes
Deborah,
Glad to hear the list was helpful! I love all your favorites as well… haven't had much success with Coleus, but I also didn't try very hard. Will have to try again!
Carrie Soles 2 years ago · 0 Likes
The only flower that I can't tolerate their smells is the Lily's you often see and smell at funerals. Way too strong.
I like cutting
Roses
Cosmos
Queen Anne's Lace
Hydrangeas
Brown Eyed Susans
Rosemary
Daisies
Carrie Soles
Lori Hernandez 2 years ago · 0 Likes
Oh, these are fun favorites! And I agree – I only grow the unscented lilies.
karen davies-james 2 years ago · 0 Likes
top 5 …
sweet peas
cosmos
sunflowers
dahlia
achillea
Lori Hernandez 2 years ago · 0 Likes
Great list!Newer PostBeginner's Guide to Growing DahliasOlder PostChocolate Crinkles Recipe: Our Favorite Christmas Cookie!